Customized Scoring Solutions,
Optimized Business Objectives
Who are we? How do we do it?
WHITE PAPERS
Everything you need
to know about scoring,
collections, and more.
Get your copy of our white papers now:
Explore White Papers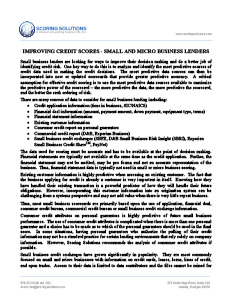 Scoring Solutions

Who are we? How do we do it?
Scoring Solutions is now part of Lending Science DM, Inc. Scoring Solutions is a leading developer and provider of acquisition, customer management, collections/recovery, marketing scorecards, hosted scoring services and risk management services. We are a privately-held corporation and provide excellent customer service and solutions focused on our clients' goals. We use innovative analyses and advanced statistical techniques to deliver solutions that are unique to each client.
We are located in Atlanta, Georgia and service clients both in the US and abroad. Since 1993, we have helped over 400 companies across the world to achieve their business goals.
Scoring Solutions has vast expertise related to the development of statistical models for the financial services industry. We are not a data provider and therefore are not biased toward any particular data source. Our goal is to identify the most predictive data elements for each customer and portfolio and deliver models that allow our customers to optimize their strategies and drive a more profitable business.
Our Products & Services Include:
Score360®

Score360® is a scoring and attribute engine for rapid implementation and deployment of scorecards, strategies, and credit bureau attributes. Score360 is available for real-time or off-line decisions. Several features are available depending on your business requirements:
Library of over 1,100 comprehensive and state-of- the-art tri-bureau credit attributes developed by Scoring Solutions which our customers have found out-performs other libraries in the marketplace for inclusion in models
All the system functionality needed to quickly and accurately implement the custom scorecards that we develop for you
Ready-to- use interfaces to consumer and commercial credit bureaus
Fast implementation of custom interfaces to internal databases and other data sources
Maintenance of a historical database for reporting and scorecard validation including a performance feedback loop
Standard and custom scorecard monitoring and validation reports
Programming of scorecards and score-cutoffs and delivery of decisions and strategies
Workflow tools to ensure that the scoring process works as designed
Fully tested interfaces, credit bureau attributes and scorecard calculations
Model development attribute calculator (standardized for tri-bureau use)
Updates to models, as needed
Suite of ready-to- use Expert Models for various industries and product lines
Secure data transfer protocols
Quick decision turnaround time
For off-line processing such as the scoring of existing accounts to prioritize collections and recovery strategies, Scoring Solutions hosts the solution and returns results within 24 hours of receipt of the file from customers. For real-time processing, the module can be licensed and placed behind your firewall or hosted with one of our partners.
Credit Bureau Attribute Processing

Get the value that our proprietary credit attributes provide when you pre-screen prospects or develop models internally. We can receive large depersonalized files from the credit bureaus or your loan origination system and process these to create our proprietary attributes for your use. Leverage the power of our attributes in your models and optimize your selection of creditworthy prospects.
Business Consulting:
Performing Sensitivity Analysis

Testing new strategies and understanding the ramifications of a decision are critical in mitigating risk.
Automating Manual Decision Processes

Manual decision processes are slow, expensive, and subject to the personal influences of the individual making the decisions. Many processes can be automated eliminating unnecessary time, expense, and influence.
Validations

These results tell you how well your scorecard is working and whether it is time for a tune-up.
Basel Analysis

Validations and reviews of Probability of Default models to meet Basel requirements. Our recommendations provide your road map to continued success.
Portfolio Monitoring

Derive the maximum value from your portfolio by thoroughly understanding the business results that are being generated and making changes to improve processes.
Pricing Strategies

Effective pricing strategies can improve profitability by differentiating you company from the competition with pricing for the level of risk.
Decision Strategies

Effective decision strategies are critical to maximizing the success of application processing, customer management, collection and recovery systems. Analysis of the results of your decision strategies is essential to designing future improvements.
Scoring Workshops

Consultants train management as well as new or inexperienced staff in the appropriate usage of scoring systems.
What do our clients get?

Your Benefits
Improved Loan Performance
Easier Implementation of Credit Bureaus
More Accurate Underwriting
Faster Implementation of Models
Analytic Models
We've Built
Qualified Leads We've
Helped Generate