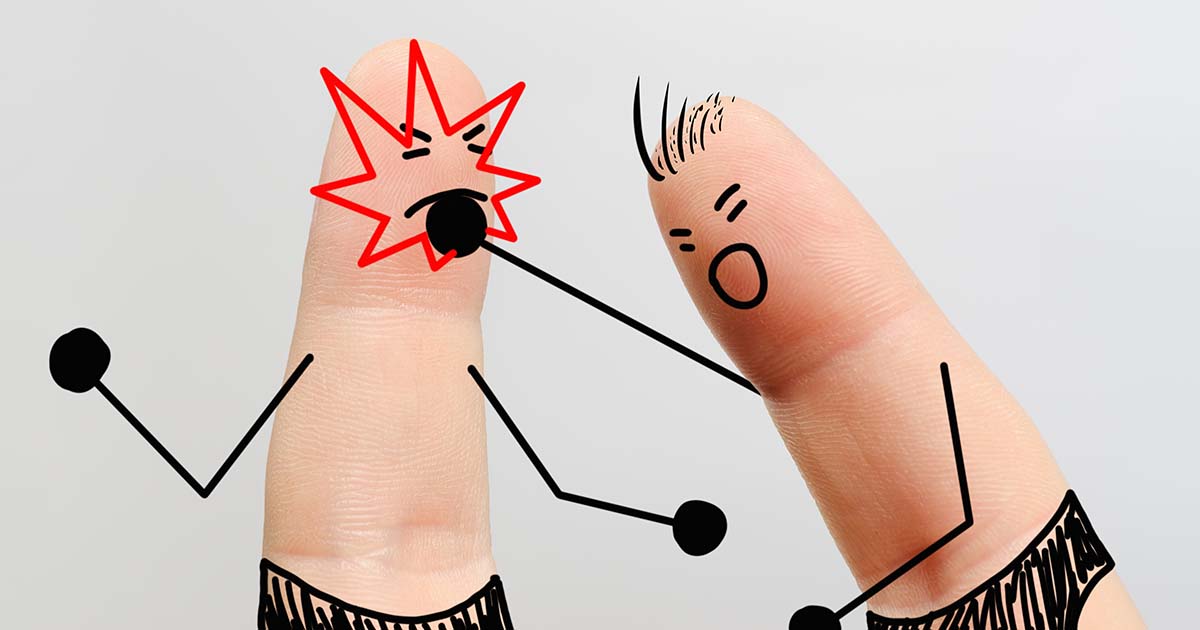 The battle between Direct Mail vs. Email is on! So who will it be? The tech savvy email marketing campaign or the 100 year old direct mail piece? Which platform is ideal for Lenders? Each contestant has valuable qualities and plays in the marketing world, so let's take a look at some of the tricks up our players sleeves.
The Direct Mail Advertising association may have been established over 100 years ago, but Lenders shouldn't be too quick to assume that this marketing method will end up with the Dinosaurs. In fact, the U.S. Postal Service has performed studies showing that 90% of millennials think that Direct Mail is reliable and 87% actually like receiving Direct Mail pieces. So, what keeps Direct Mail in the ring?
Personal and Completely Customizable
Direct mail allows you to have a significant, private conversation with your prospects. Personalized marketing software lets you customize every word, every example and every detail on the page for each and every prospect. This allows Lenders to have an intellectual and emotional connection with their prospects. However, it is emotional connections that drive response. After all, the human brain is ruled by emotions.
The analytics behind direct mail campaigns is clearer many times than that for email. When performing email analytics, Lenders need to look at a variety of components: opens, click-through rate, conversion rate, sharing/forwarding rate, etc. On the other hand, Direct Mail can be directly measured by simply counting the number of inquiries. It is important to note that an A+ team of data analysts is required to guarantee the best possible results in both the data selection and the analysis processes. Lenders can also include promotions on their mail pieces in order to track campaign results.
205 billion emails are sent out daily! With this type of congestion, Lenders' messages can easily get lost in the weeds and chaos. Furthermore, it becomes difficult for your clients to view your content as reliable amongst the countless other emails in their inbox. Direct Mail allows you to have a higher opportunity to stand out and build that secure connection with your prospects. As mentioned above, 90% of millennials view Direct Mail as a reliable source of marketing and advertising. People value something that they can see and touch higher than a digital ad. When your potential clients feel the reliability of a Direct Mail piece, they are more likely to engage with your message and, in turn, more likely to convert.
On the other side of the ring, we have Direct Mail's younger opponent, email. Many see email as the new and improved version of Direct Mail, so let's take a look at what email really has to offer.
When compared to other forms of marketing, including Direct Mail, email falls on the rather low side of the expenses spectrum. Email saves you from spending on processing, printing, and mailing costs, giving it a lower Cost-Per-Acquisition when compared with Direct Mail campaigns. Furthermore, lenders can benefits from sending small tester campaigns in marketing to before sending to a larger data set. With Direct Mail, these smaller campaigns can become costly unlike email where test campaigns can be sent out for free.
The internet world gives lenders the ability to get their marketing out instantly. An email campaign can be deployed to your entire database in a matter of seconds, avoiding processing and shipping delays that come with Direct Mail. Email becomes ideal for lenders when they need to get updates, news, and information to their prospects in real-time. Conversions can also be measured in real-time when prospects click on links or call-to-actions in the email.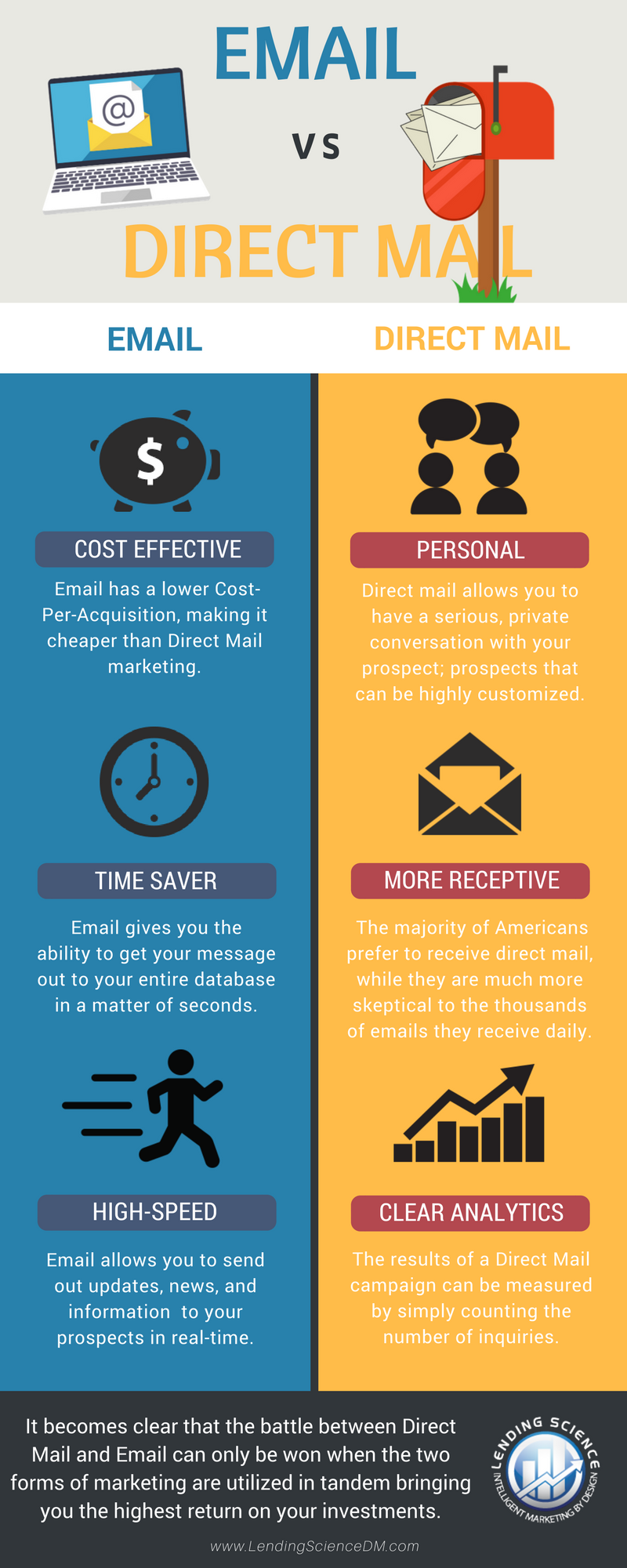 When the final match bell rings and the dust clears in the Lending Industry Marketing battle, Direct Mail comes out victorious. For Lenders, Direct Mail should be the lifeblood of their marketing efforts. If Lenders want to see their highest ROI, however, they must incorporate email marketing. Direct Mail and Email Marketing working in tandem will yield the highest response rates and ROI. At Lending Science DM, we can assure you that your direct mail marketing campaigns will cost less and function better. We've been testing letters and different approaches for all types of lending offers in all verticals for 30+ years, so we are able to implement what we know works! We invite you to
sign up and get access to our SAMPLE REPORTS
to see for yourself some of our campaigns results, and how we are helping take lending to the next level through smart and fully optimized Turnkey Direct Marketing and Data.